Massage Therapy in Wisconsin Dells and Baraboo
Therapeutic Massage, Trigger Point Therapy, Gua Sha Massage, Sports Massage, and Cupping Massage Techniques
I combine western Massage Therapy, Therapeutic Massage, and Sports Massage with eastern massage techniques such as Acupressure, Trigger Point Therapy, Gua Sha Massage, and Cupping Massage Therapy to achieve the best results for my clients.
Cupping Massage Therapy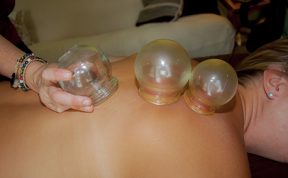 Some of the techniques may seem unfamiliar or unusual such as Cupping Massage Therapy also called Medical Cupping.
Cupping may appear a little intimidating at first but is very effective at helping to reduce muscle strain and stiffness as well as release myofascial restrictions.
The suction of the cups can loosen muscles, increase blood flow, and remove toxins from the deeper tissues.
Gua Sha Massage, Gua Sha Therapy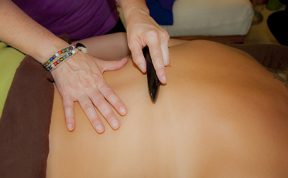 Gua Sha Massage and Gua Sha Therapy is an ancient technique used by many practitioners of Asian massage modalities.
During Gua Sha oil is applied to the skin of the area to be treated. Then an instrument is used to press-stroke the skin in order to intentionally create a surface circulation of blood.
Gua Sha Therapy can relieve pain and stiffness in an affected area and can often break up tissue adhesions that traditional massage cannot.
Trigger Point Massage, Trigger Point Therapy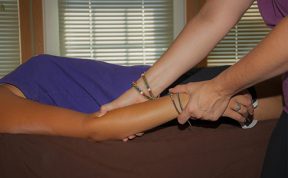 A trigger point is a knot or wad of muscle fibers staying in hard contraction.
Trigger points cause stiffness and weakness of an affected muscle and restrict the muscle's full range of movement. They also cause pain and can be the cause of numbness.  Quite often, trigger points send pain to other areas of the body rather than directly at the cause.
I am skilled at palpating and reducing these tender points through trigger point massage and trigger point therapy.
Sports Massage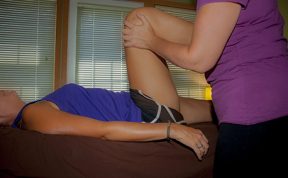 Sports massage utilizes specific strokes to help athletes obtain maximum performance and physical conditioning by increasing poser, endurance and mobility both before and after an event or exercises.
Sports massage can accelerate the healing process, increase range of motion, and reduce adhesions, swelling, bruising and pain.
Therapeutic Massage Benefits
Therapeutic Massage Benefits include lowering blood pressure, lymph drainage, scar tissue abatement, releasing serotonin and dopamine which can improve sleep patterns, boosting immunity and lowering stress hormones.
Why wait to feel better?
Learn about our Massage Therapy Specialties now!
---